Arizona Financial Theatre | Phoenix, Arizona
Get ready to put those hands up as PAW Patrol calls everyone for an action-packed and music-filled live show as they ask your kiddos for some help in solving puzzles as they embark on a great pirate adventure! PAW Patrol Live! is coming to you live at Arizona Financial Theatre on Sunday, 26th of February 2023. The Nickelodeon hit show promises PAWsome adventures featuring heroic characters, fun songs, dancing, and interactive elements that the whole family will surely enjoy. Make sure to mark your calendars for a PAWsome adventure by booking your tickets now!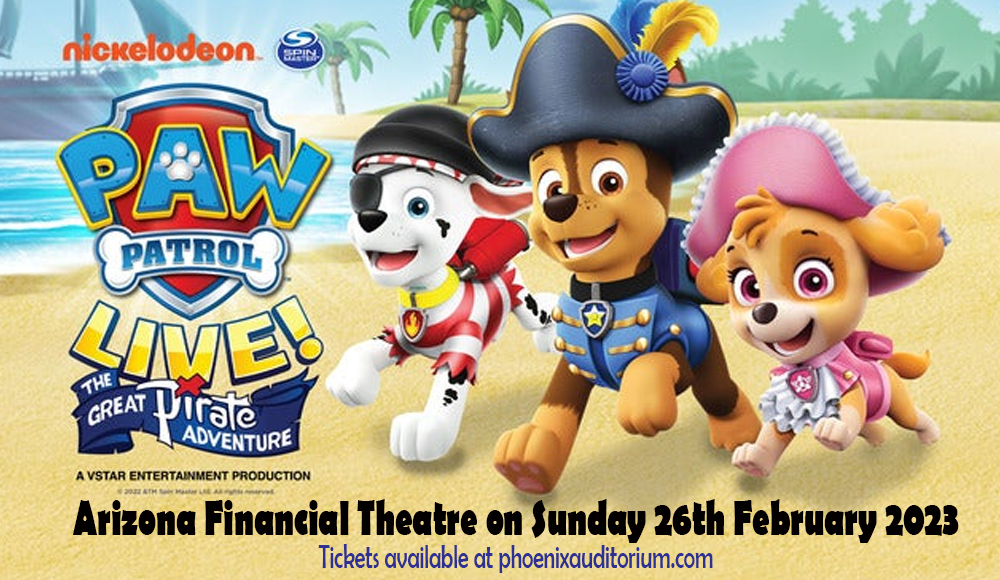 Promising an action-packed and music-filled production, the Nickelodeon hit show PAW Patrol is bringing "The Great Pirate Adventure" show to the stage at Arizona Financial Theatre. As X marks the spot, families are invited for a chance to chase pirates and help save the day as they join Ryder and his team of pups to rescue Cap'n Turbot from a cavern. Discovering a secret treasure map, everyone's definitely in for a great pirate adventure!
"In Paw Patrol Live! "The Great Pirate Adventure," Mayor Goodway is getting everything shipshape for a big Pirate Day celebration in Adventure Bay. When Cap'n Turbot falls into a dark and mysterious cavern, it's Paw Patrol to the rescue! Chase, Marshall, Rubble, Skye, Rocky and Zuma save Cap'n Turbot and discover a secret pirate treasure map that leads them on an epic adventure, which includes help from the newest pup who is all ears, Tracker!" – PAW Patrol Live! producers shared.
The family-friendly, interactive live show features opportunities for the kids to learn some pirate catchphrases, boogie to pirate songs, and help the heroic pups solve their mission on a treasure hunt.
Staging live shows of the children's favorite Nickelodeon TV show since 2016, the live productions have been attended by over 4.5 million people in over forty countries through a memorable Broadway-style spectacle. Don't miss out on this chance to create adventures to remember with the family by booking your tickets now!