Arizona Financial Theatre | Phoenix, Arizona
Legendary trailblazer and absolute hero of comedy Dane Cook is on the road for "The Perfectly Shattered Tour." Known for his superb observational humor, incredible wit, and perfect timing, he has been thrilling live audiences for a number of years. Not only that, he has released several record-breaking comedy specials, including but not limited to "Isolated Incident," "Vicious Circle," "Harmful if Swallowed," "Tourgasm," "Retaliation." With a phenomenal performance reputation and magnetic stage presence, you can expect a high quality show that will leave you with memories that will last a lifetime when he comes through to the iconic Arizona Financial Theatre on Saturday, November 18, 2023… butttt tickets are going to be hard to come by because everyone will want to be there. So to avoid disappointment, be sure to secure your seats by clicking the "GET TICKETS" button right now!!! So don't delay or you will miss out.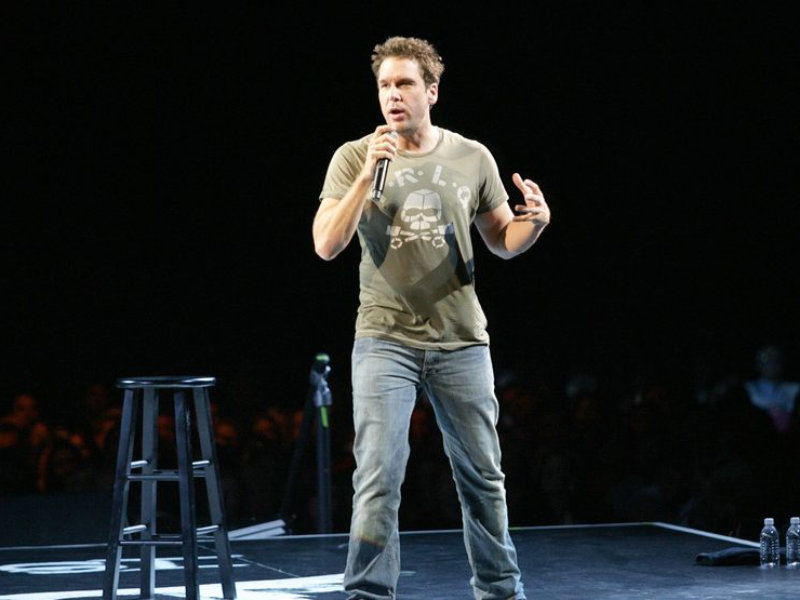 Dane Cook's career has seen him wow fans with his comedy and acting careers since the time he broke out into the mainstream in 1998 on Comedy Central's "Premium Blend." Prior to that, his earlier work saw him hit up comedy clubs as a new up-and-comer in the early 1990s. Having done the rounds and gotten his chance at fame and fortune, he leaped at it and hit the big time in the 2000s.
He released his first CD/DVD in 2003 called "Harmful if Swallowed," which was certified platinum, and also signed a contract with Comedy Central Records. He then followed it with what was an even bigger hit that was certified double platinum, called "Retaliation," in 2005. Using the momentum he gained, he was offered a performance role at the MTV Video Music Awards and also joined legend Snoop in presenting an award at the show.
2005 was a big year for Cook because not only did he do all the aforesaid things, he also did his first HBO Special dubbed "Vicious Circle," shot two pilots for Cooked," a sitcom, embarked on the 20-show "Tourgasm" tour, which was turned into a documentary for HBO, and hosted SNL.
His star was on the rise, and the epic comedian sold out Madison Square Garden in 2007, becoming the second comedian in history to do so at that time. He also broke the record for longest performance on stage at the Laugh Factory with a show that lasted three hours and fifty minutes.
Dane has had an incredible acting career, which started with small roles in the late 1990s with movies such as Simon Sez and Mystery Men. He then leaped into a leading role in "Employee of the Month" as Zack Bradley. Subsequent roles saw him act in "Mr. Brooks" (2006), "Good Luck Chuck," (2007), "Dan in Real Life" (2008), "My Best Friends Girl" (2008), Planes (2013), Planes: Fire & Rescue (2014), and 400 Days (2015).
Now he brings his brand new tour to audiences across the nation, and you have to be there to see why he is just so good at what he does. It will be one of the funniest nights of your life, so grab your tickets right now.