Arizona Financial Theatre | Phoenix, Arizona
Danna Paola's oozing talent, undeniable charisma, and impressive versatility will be witnessed by Arizona fans this Friday, September 15, as the Mexican pop star sets the Arizona Financial Theatre on fire. Catch the incredible performances of the singer-actress on this epic night filled with catchy melodies, powerful vocals, and electrifying moves that are distinctly hers. The 27-year-old star is known for her unique blend of pop, Latin pop, and R&B. Her hit songs "Oye Pablo," "Mala Fama," "Sodio," and "1Trago," among many others, are testaments of her artistry and brilliance, which remained unmatched by new and upcoming stars following her footsteps. Thus, you are in for a treat as you immerse yourself in her music and artistry. If you want to sing along and groove to her all-time hits and songs from her latest album, you should secure tickets to her show. Her stop at the famous Arizona venue this September 15 is part of her "Xt4s1s Tour USA." Click the "Get Tickets" link today, and prepare for an unforgettable night with one of Mexico's sought-after artists.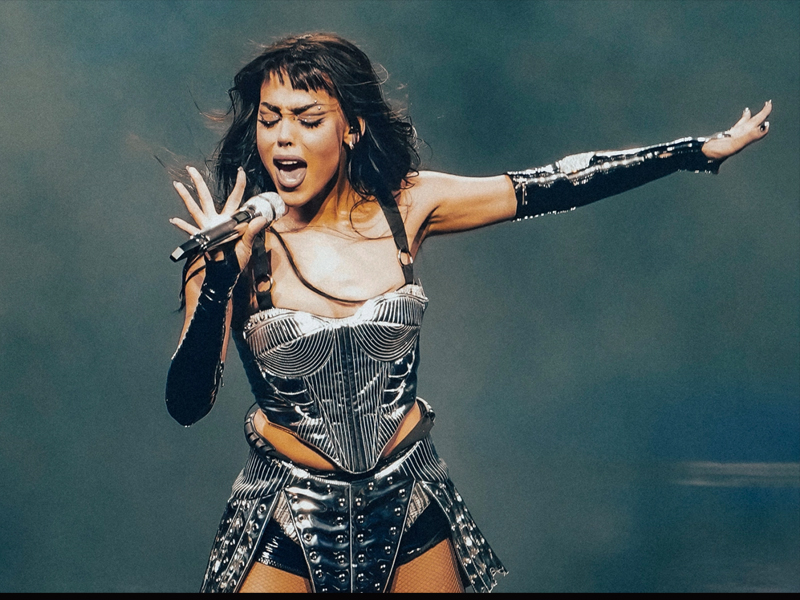 Danna Paola is a singer, model, actor, and performer in Mexico, famous for her lifelong pop-culture career in the acting industry. Her parents are Patricia Munguía and Juan José Rivera Arellano, the former Grupo Ciclón and Los Caminantes singer. Her life is written for stardom as she has a knack for performing at an early age as a child actor in the Mexican counterpart of the television show Sesame Street. Although her career has been fruitful for most of her childhood, she pushed herself out of her comfort zone as a child actor to become a music artist and pop star.
Born and raised in Mexico City, her first audition was at the age of four as part of "Plaza Sesamo." At the age of nine, her breakout success was being cast as the lead role of "Amy, la niña de la mochila azul," a Mexican hit telenovela. She also released her career-defining album "Océano" while the series was going on. The success of the series and the album fed each other off, which put the young performer in the spotlight. When Danna Paola released her third studio album, her acting career was also blossoming. She was cast in the film "Tear This Heart Out" in 2008. She would go on to many other television and film roles and was featured in a Spanish version of "Winnie the Pooh," released in 2011.
Her music career is as successful as her acting years, having now released six smash hit studio albums. Danna Paola developed into a versatile performer known for her incredible range and vocal ability. Her self-titled album, released in 2012, included her single, "Ruleta," which went to number 20 on the radio charts, while the second, "Todo Fue un Show," peaked at number six, pushing the album well into the Mexican Top 40.
Catch the darling of Mexico as she goes on an extensive US tour this year. In April, she released her newest hit, "1Trago," which gained the most plays on its first day for a song by a Mexican female solo artist in Spotify history. She'll be at the Arizona Financial Theater this September 15 to give you the best of her music. Grab your tickets now!