Arizona Financial Theatre | Phoenix, Arizona
Jump into the excitement and set the stage for an unforgettable party experience! The all-new Disney Junior Live on Tour is back and headed your way, arriving on November 14, 2023, at the iconic Arizona Federal Theatre. A huge costume party is on its way, planned by our very own Mickey, Minnie, and their pals but a mysterious green weather keeps interrupting the fun! Watch Team Spidey try to save the day! It will be an immersive, interactive concert experience with catchy tunes of Mickey, Minnie, Doc McStuffins, the Puppy Dog Pals, Bo from "Firebuds," and the superhero kittens from the new series "SuperKitties". This adventure will feature singing, dancing, special effects, and cirque-style acrobatics. Experience the interactive and heartwarming show that is sure to leave cherished memories for the whole family to treasure. We are inviting you to be part of the magic. Save the date for this incredible event and grab your tickets now!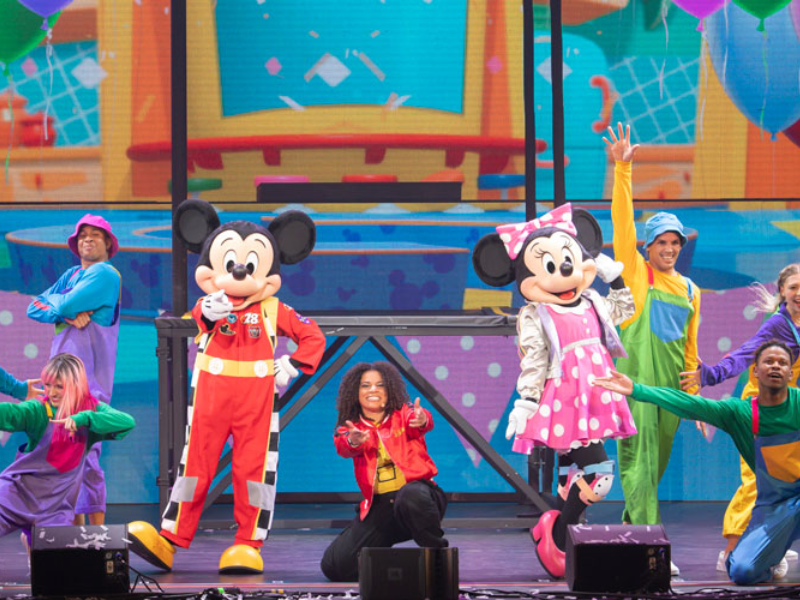 Get ready to witness the wonder of the highly acclaimed Disney Junior Live On Tour: Costume Palooza! This spectacular production, a three-time Pollstar-nominated event, unites your favorite Disney Junior characters and beloved Marvel Super Heroes in a thrilling concert-style extravaganza filled with wonder. ABC News recognized the show as "an immersive, interactive concert experience with singing, dancing, 3D special effects, and acrobatics."
Last year's Costume Palooza broke attendance records and they are excited to show you new surprises for all eager Disney Junior fans! One secret out of the bag? The new superhero from SuperKitties will be debuting for the first time as part of the tour!
Disney Junior Live features an incredible lineup of beloved characters, including Mickey, Minnie, Goofy, Doc McStuffins, the Puppy Dog Pals, Bo from Firebuds, Ginny from SuperKitties, and Marvel's Spidey and His Amazing Friends. Watch as they host an epic costume party, only to face unexpected challenges caused by mysterious green rain, gusts of wind, and swirling smoke. Will Spidey and his hero friends come to the rescue and save their friends?
The show is expected to be 90 minutes long, including a 37-minute first act, followed by a 15-minute intermission, and a 37-minute final second act. Exclusive tour merchandise will be available at the event including plush toys, light-up wands, and more.
If that's not enough, elevate your experience and indulge yourself in the Disney Junior Live On Tour: Costume Palooza VIP package that is worth every penny as it includes one premium show ticket and admission to the pre-party interactive experience. With this pass, you will also get instant access to character greetings with Mickey, Minnie & Spidey before the actual Palooza performance. One collectible VIP party pass and souvenir tote bags will be free for you to take home as keepsakes. Snacks and refreshments will also be provided on-site for everyone to enjoy.
The costume palooza will be held at the Arizona Financial Theater, the premier entertainment destination with state-of-the-art sound and lighting equipment that is sure to bring an unparalleled audiovisual experience for the live audience. Look no further as the performance will not only include hit songs from the beloved Disney Junior series but will also introduce new original music, ensuring a fresh and exciting experience for all. Don't miss out on this magical performance and grab your tickets now!