Arizona Financial Theatre | Phoenix, Arizona
One of the scene's hottest comics is hitting the stage on a global trek! Comedian and actor Matt Rife is bringing his first-ever ProbleMATTic World Tour across cities in North America, Australia, and Europe. Part of the 100+ date trek is a stop at Arizona Financial Theatre on Wednesday, 15th of May 2024. Turning up the heat all-year-round, Rife is set to throw in his comedy-gold spiels and hot surprises on stage. Known for his self-produced specials "Only Fans" (2021) and "Matthew Steven Rife" (2023), hotter days are set to come as he launches ProbleMATTic antics and surprises across the world. Produced by Live Nation, the man's first world tour will bring the star's hot energy and witty conversations for every nation to enjoy. As seats continue to sell out as hot as he is, we've got you covered! Save your spots at Matt Rife's ProbleMATTic World Tour by booking your tickets now!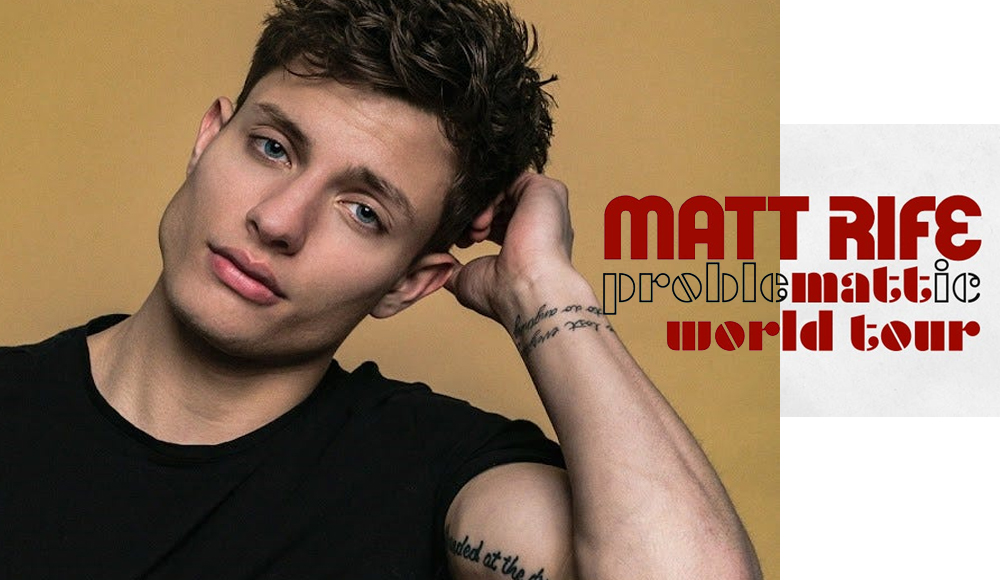 As one of the hottest comedians with some acting gigs on the side, Matt Rife is officially launching his first-ever global trek. Produced by Live Nation, the "ProbleMATTic World Tour" is serving 100+ dates of the comic's hilarious antics and hot surprises live on stage across North America, Europe, and Australia. We're definitely up for his summer heat all-year-round!
"I couldn't be more thrilled to live out this life long dream!", Rife shared as he gears up to tour the world. "To tour the world, spreading laughter, with some of my best friends, is something I never thought would be possible. I'm so grateful to get this opportunity, and it's even more fulfilling knowing that it's all because of the incredible people who enjoy my comedy,"
Working for over 12 years in the industry, the extensive trek is definitely a milestone he holds close to his heart. Dominating the scene for his hot self-produced special "Only Fans" in 2021, the actor followed it up with another crowd-favorite special "Matthew Steven Rife" at the onset of 2023. Diving right into personal tales and hilarious life adventures, the man's astounding wit and charismatic persona definitely proves he deserves the limelight.
Wildly amassing a huge following the release of his first special, the man is undeniably a comic by heart. Masked by his good looks and alluring charm, his multitude of stories to share are relatable pieces that'll definitely send you on your feet. He's a guy to watch out for in our books!
"Matt has quickly become one of the fastest-rising comics, creating incredible global demand for tickets," Andy Levitt of Live Nation said. "We're looking forward to working alongside him and helping him connect to his audiences around the world."
Self-produced and distributed on YouTube, Rife's specials speak for themselves. The man's definitely a gem in this age of internet stardom. Hitting the stage on his first world tour, with a massive amount of dates marked sold-out, the man's definitely got something special up his sleeve. Moreover, he's set to tape his third stand-up special this Fall at the DAR Constitution Hall.
Don't miss out on Matt Rife's ProbleMATTic World Tour at Arizona Financial Theatre by booking those tickets now!