Arizona Financial Theatre | Phoenix, Arizona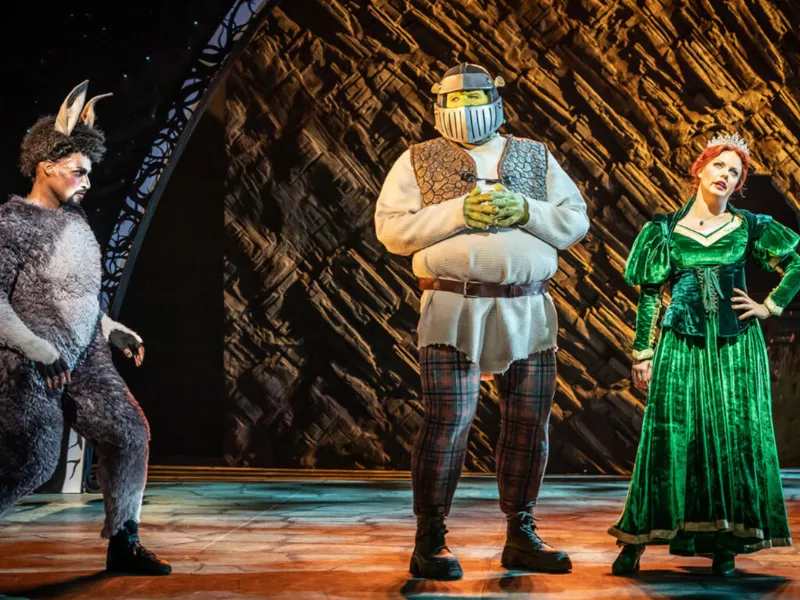 The Land of Far Far Away just got a little closer to Phoenix! The seven-time Tony-nominated Shrek The Musical premieres at the Arizona Financial Theatre on Friday, March 8th as part of its 2024 US Tour! Shrek, Fiona, Donkey, Pinnochio, and the rest of the crew are back and they're delivering a humor-packed show based on the Oscar-winning, blockbuster DreamWorks animated film. Your favorite characters are stepping into reality in this fairy tale musical that features compositions from Jeanine Tesori and an original book by Pulitzer Prize winner David Lindsay-Abaire. Yearning for peace in his swamp home, Shrek strikes a deal with Lord Farquaad - little does he know, this agreement leads him into an escapade involving dragons, princesses, and a beyond-ordinary happily-ever-after. Fall in love all ogre again at the marvelous Arizona Financial Theater, a premium entertainment venue that hosts the grandest musicals in the state! Why wait? Purchase your tickets now!
As part of the 2024 US Tour, Shrek The Musical finally hits the world-famous Arizona Financial Theatre for a two-night showing that begins on Friday, March 8th!
Opening on Broadway back in 2008, Shrek The Musical is a live musical adaptation based on the hit DreamWorks animated film, "Shrek". Over the years, the show has garnered over eight Tony Award nominations, including Best Musical as well as several Drama Desk Award nominations. In 2013, RadicalMedia captured the Broadway production in high definition, and the resulting film was made available on DVD, Blu-ray, and digital download formats.
"Once upon a time musicals drew their inspiration from books, plays, or even real life; now they seem to be based on animated movies. But, although Shrek stems from the 2001 DreamWorks film, it is genuinely theatrical, generous-spirited and mercifully free of the sensory bombardment that afflicts some of its rivals," The Guardian shares.
All Shrek really wants is one thing - a peaceful moment in his cozy swamp. Is that too much to ask? Apparently, it is, as his world turns around when a horde of fairy tale characters swarm and seek refuge in his home after being banished by the menacing Lord Farquaad. In order to reclaim his humble abode, this ogre strikes a deal with the short tyrant. His ticket back to the swamp lies in executing a bold plan to rescue Princess Fiona from a distant dungeon.
With lyrics and an original story by David Lindsary-Abaire, alongside toe-tapping show tunes by Jeanine Tesori, this production is a guaranteed hit for families looking to watch a fun-filled musical fit for all ages! The rest of the creatives include Jason Moore & Rob Ashford as Directors, Andy Grobengiser as Musical Director, and Josh Prince as Choreographer. Moreover, the official cast for the 2024 US Tour hasn't been announced yet, so stay tuned for more updates!
The Arizona Financial Theatre stands as a premier events venue in Phoenix, renowned for its variety of grand performances. Featuring a grand 5,000-seat auditorium adorned in deep blue and rich-brown hues, the interior design creates a warm and inviting atmosphere, ensuring the best experience for everyone present. Buy your tickets now for Shrek The Musical on Friday, March 8th!