Arizona Financial Theatre | Phoenix, Arizona
The American indie alt-rock sensation, The Backseat Lovers, is ready to take you on the backseat of their headlining Waiting To Spill World Tour in support of their sophomore album of the same name. The "Kilby Girl" musicians are taking on a big year with a new army of fans and a world to conquer. The Waiting To Spill World Tour kicks off this 2023, stopping by at Arizona Financial Theatre on Saturday, 29th of April 2023. With their new album proving that they're alt-rock's next big thing, don't miss out on this chance to catch their energetic live shows at the Waiting To Spill World Tour. Book your tickets now!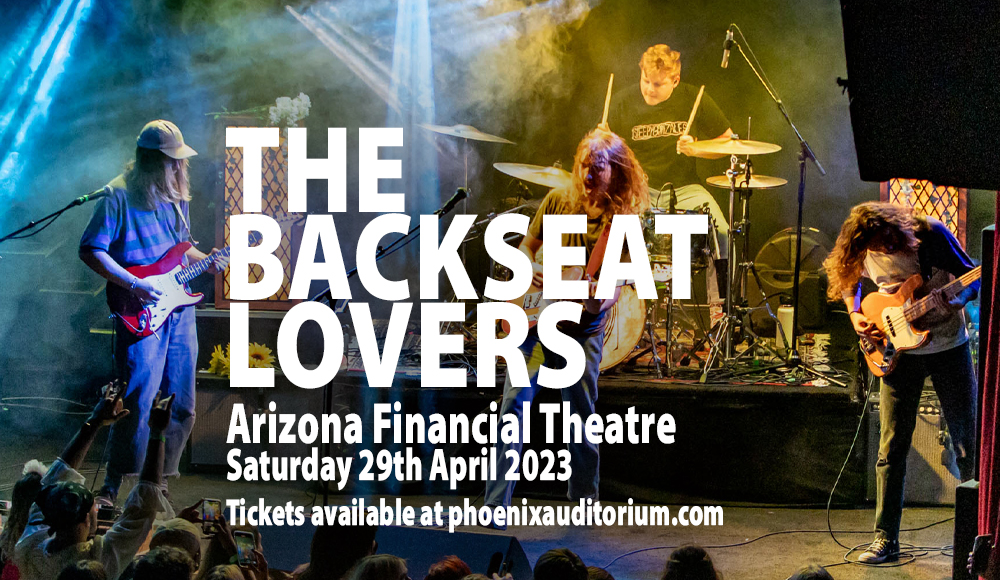 Formed in 2018, The Backseat Lovers found their first wave of success when they won a "battle of the bands" contest at Velour. During that time, they released their first EP, Elevator Days. In 2019, they began to gain traction and found themselves dominating the airwaves when their single "Kilby Girl" became a hit and has reached over a hundred million streams to date on Spotify.
Following up their successful 2019 debut album "When We Were Friends", The Backseat Lovers is taking it up to the next level with their new album "Waiting to Spill". The new record features their singles "Growing/Dying", "Close Your Eyes", and "Slowing Down".
Known for their energy-filled live shows as they rock it all out on stage, fans are in for a treat as they bring their new songs off of "Waiting to Spill" to the live stage.
Fresh from a gig in Omeara, the band reflects on how they love playing intimate shows where they witness the crowd share their electrifying energy as the play their favorite songs.
"I personally love playing intimate venues like [Omeara], so it was really exciting to be able to do that again in London," bassist KJ Ward told NME. "Our first tour was basements of houses and smaller clubs, so it's very nostalgic to go back to [our] roots and play a venue like that."
"We all kind of prefer it – just so we can get to know the fans a little more." added band drummer Juice Welch.
Looking forward to sharing live renditions of their hits and new tracks off of their new record, The Backseat Lovers share that the crowd's energy keeps them motivated to share their craft with the world. At their Omeara gig, people were singing out loud, and the crowd almost couldn't even hear the band itself. In an interview with NME, the band shares that "It's a very beautiful thing. It's kind of hard to put into words." shares Joshua. "It's just fun to be in one space as a group and be collectively in the moment, and having a good time all together." added Juice.
Don't miss out on the Waiting To Spill World Tour at Arizona Financial Theatre by booking your tickets now!