Arizona Financial Theatre | Phoenix, Arizona
This October, eclectic music prodigy Thundercat is traversing the nation! The former thrash metaller has established himself as a highly influential solo artist, even overtaking his peers by bagging two Grammys! This year, Thundercat embarks on a massive world trek titled In Yo Girl's City Tour! This much-awaited outing includes 22 stops in North America this fall, which includes a pit stop at the Arizona Financial Theatre! On Sunday, 8th October 2023, fans can look forward to Thundercat's myriad of hits, fan favorites, and many surprises! The prolific bass player has been known to belt out staples like "Lost in Space," "Dragon Ball Durag," "Show You the Way," "Them Changes," and many more! The show is also anticipated to feature newer hits, including his latest single, "No More Lies." If you love a wide range of genres rolled into one remarkable package, you better hurry and score tickets to see Thundercat at the Arizona Financial Theatre!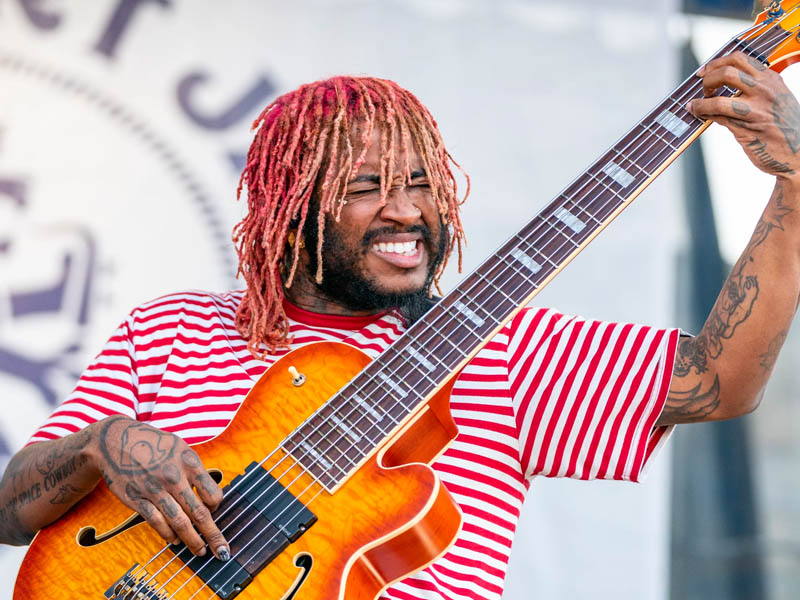 Stephen Lee Bruner, a.k.a. Thundercat, is a prolific bass player and music producer. He first rose to prominence as a member of the thrash metal band Suicidal Tendencies. He performed with the band for nine years and recorded the 2010 effort No Mercy Fool!/The Suicidal Family. In 2011, Bruner pursued his solo career and released his debut album, The Golden Age of Apocalypse. Bruner's music comprises influences from various genres, such as jazz, funk, progressive, psychedelia, and more. The debut album, released via independent label Brainfeeder, received wide critical acclaim from fans and critics. LA Weekly even included the record as one of the "Top 5 Jazz Albums of 2011."
In 2013, Bruner released his follow-up effort, Apocalypse. The album became his first record to break into the Billboard 200. Apocalypse spawned several singles and fan favorites, including "Heartbreaks + Setbacks," "Oh Sheit, It's X," and "Evangelion." Apart from entering the Billboard 200, the record charted in three other categories, including peaking at number 2 on the Heatseekers chart.
Three years later, he participated in Kendrick Lamar's massive hit, "These Walls." The song later won Bruner his Grammy Award for Best Rap/Sun Performance. By 2017, Bruner has achieved a phenomenal international breakthrough. His third album, Drunk, entered the charts in 12 countries, including the U.S. The record soared to number 50 on the Billboard 200 and featured several hits, "Them Changes," "Bus in the Streets," and "Show You the Way." The album featured guest performances from acclaimed hip-hop artists Kendrick Lamar, Mac Miller, Wiz Khalifa, and Grammy Award-winning singer and music producer Pharell.
In 2021, Bruner won another Grammy for his work with his latest album, It Is What It Is. The 2020 record won the Grammy Award for Best Progressive R&B Album, besting other acclaimed artists like Chloe X Halle, Free Nationals, Robert Glasper, and Jhene Aiko.
Earlier this year, Bruner released a collaboration single, "No More Lies," with Tame Impala. In less than a month since its release, the single has clocked in over eight million streams on Spotify.
Catch Thundercat this fall by securing tickets now to his show at the Arizona Financial Theatre!