Arizona Financial Theatre | Phoenix, Arizona
Can't get enough of Trevor Noah's insightful and authentic take on politics, race, current events, and other important topics that other comedians try to evade? You are in for a treat as the Emmy award-winning host embarks on another comedy tour this 2023. Billed as "Off The Record Tour," the massive series of shows will stop at Arizona Financial Theatre on October 21, 2023. Get the chance to witness Trevor's sheer brilliance through his sharp comedic acts that will leave you laughing all night long. Mark your calendars and prepare to be wowed by the wit and intelligence of this award-winning comedian. Get your tickets as early as today and be one of the hundreds of fans to witness Trevor's all-new, never-before-seen stand-up acts. Hit the "Get Tickets" link to secure your event tickets.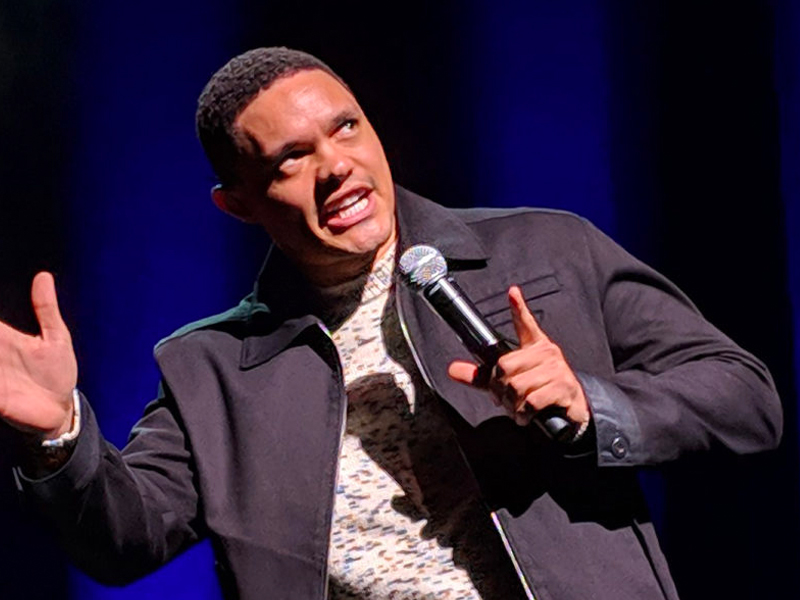 One of the most well-known comedians working today, Trevor Noah, has won over fans all over the world with his sharp sense of humor. His meteoric climb to prominence has made him a cultural legend in the entertainment business. Thanks to his unapologetic yet intelligent take on politics, race, religion, and other hard-hitting topics, he was able to set himself apart from the sea of comedians in the industry.
Most people recognize Trevor as the man behind The Daily Show. Since its 2015 run, the show has become one of the most watched and critically acclaimed late-night comedies. It's a funny way to pass the time, but it also offers an insightful critique of the news and government. With its groundbreaking blend of cutting satire and insightful commentary of American culture, it has revolutionized late-night comedy and had far-reaching political and social effects — thanks to Trevor's wit and genius. Noah has the ability to make his audience think while they laugh at his jokes. As one Washington Post reviewer writes, "Noah allows viewers to laugh so they can think." This is a way for him to respect his audience's intellect while making them laugh simultaneously. Over the years, his show has won numerous accolades, including multiple Emmy awards and Peabody Awards for excellence in journalism.
Despite being a successful host, Trevor Noah did not leave his love for stand-up comedy. He consistently goes on tour almost every year to bring joy to his fans worldwide. In addition, he has actively joined the elite circle of comedians who have made a deal with the giant streaming service Netflix. His comedy specials are always a hit to all comedy fans worldwide, making him appeal to an even larger international audience.
After the successful run of his "Back to Abnormal World Tour" in 2022, the celebrated comedian-host will embark on another massive tour this 2023. Dubbed "Off The Record Tour," the trek will kick off in Atlanta on January 20 and will continue throughout the year, with shows outside the US. Noah will be stopping at major venues across North America and Europe before capping the tour off in San Francisco on December 6, 2023.
Noah will stop at Arizona Financial Theatre on October 21, 2023. If you are a big fan of the comedian, this is your chance to see him perform all-new acts live on stage. Tickets are now on sale, and you can get yours here by hitting the "Get Tickets" button.