Arizona Financial Theatre | Phoenix, Arizona
The 'best part is on its way! Announcing a roster of North American tour dates for the Superpowers World Tour, Daniel Caesar is taking his new anthems and biggest hits live on stage at Arizona Financial Theatre on Sunday, 24th of September 2023. With soul-stirring melodies and lyrical hooks that send the feels, the "Get You" and "Best Part" singer shook global waves with his third studio record, "Never Enough". The LP serves his newest hit singles "Unstoppable", "Valentina", "Let Me Go", and "Do You Like Me?". Hitting the road on his tour's second leg across the U.S. and Canada, Daniel Caesar's shows are more than just a concert – they're soulful experiences that definitely hit hard. Experimenting with different sounds and themes in "Never Enough", the record marks his maturity and growth as an artist. Big surprises can be expected from the R&B master, so better book your tickets now!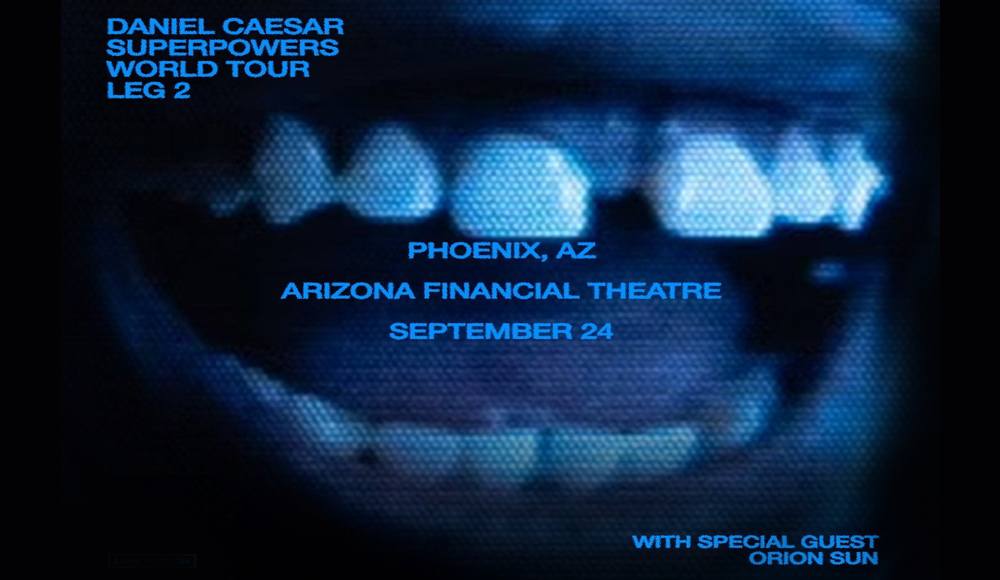 Dropping dates for the second leg of his "Superpowers World Tour", the Grammy Award-winning R&B singer-songwriter, Daniel Caesar, is embarking on an extensive trek across the U.S. and Canada in support of his latest studio effort, "Never Enough". With new music, new hits, and a world tour by yours truly, the year couldn't get any better!
Joining him on tour on its trek of rotating acts include Montell Fish, Omar Apollo, Flying Lotus, Moses Sumney, and Charlotte Day Wilson with BADBADNOTGOOD.
Taking the world by storm for his heartfelt R&B tracks including "Best Part", "Get You" featuring Kali Uchis, and "Japanese Denim", Daniel Caesar never fails to serve an experience that soothes the soul – all through the power of his lyrical masterpieces. With a new album out and about, the man scores his highest-charting spot at #2 on the Billboard Hot R&B Songs Chart and #14 on the US Billboard Hot 100.
"Never Enough" showcases Caesar's craft at its finest. With generous servings of his soul-enhancing experiences, the man experiments with new sounds and lyrical hooks that offer new surprises, evidenced by his newest singles "Unstoppable", "Valentina", "Let Me Go", and "Do You Like Me?", and his viral track "Always".
"Sometimes I landed on something stripped back and other times I'm like, 'no, this complicated thing is right," he told Hypebeast in an interview. "There are definitely songs that are cool and disillusioned. And there are other songs with these quiet moments of simplicity."
"While 'Never Enough' continues Caesar's poignant thread of heartbreak, riddled with philosophical allusions, the release feels like his most personal yet," Variety shares in its review of "Never Enough". "Driven home by the production and instrumentation credits on almost every track,"
As the man continues to explore unrequited love, heartbreak, fame, and maturity, "Never Enough" dives deep into the man's thoughts and feelings, a sonic experience that remains unmatched by any other artist in the scene.
Taking "Never Enough" to new heights as it heals souls across the world, live on stage, don't miss out on Daniel Caesar's "Superpowers World Tour" live at Arizona Financial Theatre on September 24th by booking your tickets now!