Arizona Financial Theatre | Phoenix, Arizona
Serving a hot and sexy mini album "ICKY", one of the most iconic and unique Korean acts, KARD, is embarking across the world for a global tour. Successfully wrapping up their 2022 WILD KARD headlining trek, the group is back for a brand new set of shows at "PLAYGROUND", 2023 KARD WORLD TOUR, hitting the stage at Arizona Financial Theatre on Monday, 31st of July 2023. The group's new album features their hard-hitting bops "Without You", and "Icky", sending listeners straight to the dance floor. Though co-ed idol groups aren't a common sight in the industry, KARD successfully defies the status quo since its debut. Starting off strong with 2017's "Hola Hola", and "You in Me", KARD undoubtedly took the world by surprise. With a new era out and about, the band is stoked to turn up the summer heat, feelin' 'Icky! Don't miss out by booking your tickets now!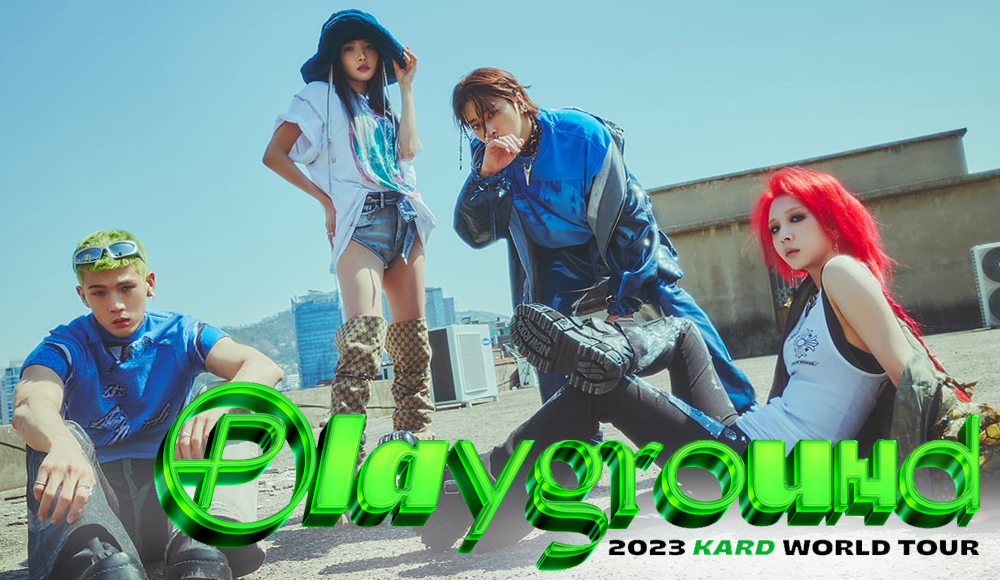 Co-ed groups aren't such a common sight in the K-Pop scene. This time around, one of the few successful boy-girl blends of acts, KARD, is back with a hard-hitting record. Following the band's massive 2022 comeback with "Re:", KARD is turning the heat up! Serving their hottest singles "Without You" and "Icky", the band invited its fans to their very own Playground, live on stage at their 2023 World Tour.
In 2022 the band made its massive comeback with "Re:" following J.Seph's return from mandatory military service in South Korea. Reuniting with BM, Somin, and Jiwoo, KARD launched a new era with "Ring the Alarm".
"I really appreciated how the members would stay on the phone with me and listen to what I had to say, considering that I'm a talkative person," J.Seph shared.
Shaking the world for their astounding artistry and unique blend of talent with both male and female members in the list, KARD surely hits the spot! The band started making great waves through its 2017 hits "Hola Hola", "You in Me", and their viral track "Rumor" making waves in the US. As the years went by, KARD further amassed a massive following with back-to-back hits "Ride on the Wind", "Bomb Bomb", "Dumb Litty", "Red Moon", and "Gunshot".
KARD continues to rise and make footprints in the scene. With more and more new listeners welcomed to the family, some tend to be pleasantly surprised with the band's craft, calling them "adult K-Pop". Though they've dropped even more sensual and raw tales in the past, KARD definitely finds its edge in its sexy vibes matched with trippy videos and choreography. They're definitely never shy when it comes to writing those lyrics!
"Our song is quite sexy, but not too much so that it becomes provocative," rapper J.Seph shared about the title track "ICKY" in an interview with Korea JoongAng Daily. "That's why we used the word 'icky' so that we give the context another word." Meanwhile, BM explains "Our songs make you feel like you're listening to a man and a woman talking to each other."
Though co-ed groups aren't as popular or as successful in the scene, KARD defies such stereotype, standing out amidst a sea of boy and girl groups. "We believe this is our weapon," Soomin shared. "As a mixed-gender group, we can talk about the love between men and women like no one else. We can make it beautiful and accompany it with great performance, vocals and rap."
Known for mature themes, honest lyrics, astounding choreography, and mixing various influences, KARD is definitely a showstopper. As ICKY slides across the world, make sure to save your spots at KARD's steamy show at Arizona Financial Theatre on July 31st by booking your tickets now!