Arizona Financial Theatre | Phoenix, Arizona
The live performances and hit songs of Los Angeles Azules will fill the Arizona Financial Theatre this September 10 as they bring their US tour to the Copper State. The Latin's "La Fábrica de Hits" will blow you away with their ethereal music that has been trailblazing the music industry since the 1980s. Known for their groundbreaking combination of classic cumbia and modern sounds, Los Angeles Azules will surely rock the famous Arizona venue with their instrumentation and powerful vocals, making you groove and sing. Who could forget the hits "El Listón de Tu Pelo," "17 Años," "Nunca Es Suficiente," and many others? These songs and more will surely delight you and your friends on this highly-anticipated Sunday evening. Save the date, tag your friends along, and reserve your tickets as early as today because you don't want to miss this opportunity to party with the "Blue Angels." Tickets are up for grabs. Get yours by hitting the "Get Tickets" link.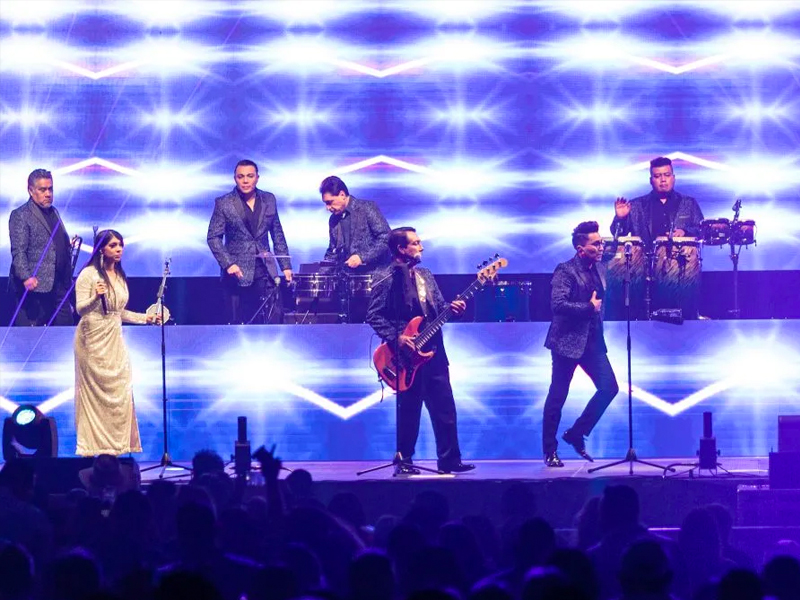 The Los Angeles Azules is a family music group of the Mejia Avante family consisting of siblings Elias, Alfredo, José Hilario, Jorge, Cristina, and Guadalupe. In Mexico, the group represents innovative music style as they push to bring a culturally significant music genre to the contemporary audience and keep it alive for the future. This genre is cumbia, a music genre tied to Latin folklore characterized by percussion-dominated tunes. The group created a space of creative improvement using the cultural genre by pioneering one of its subgenres called Cumbia Sonidera. The subgenre is known for its colorful sound produced by the instruments guacharaca, organ, and electronics. Since 1980, they have been the genre's leading performers and continue to do so for the following years. This achievement is a considerable feat, leading them to be named the band that upholds "future Cumbia."
The innovative music group emerged in 1976 and began performing together in 1980. They acquired considerable success in Mexico in the 80s. They entered international popularity for the album "Inolvidables" or Como Te Voy A Olvidar," receiving platinum certification in Argentina, where they constantly performed. As the 2000s came, the band became unstoppable. They have reached the US shores with their music as their 20th anniversary came. Their anniversary album "Historia Musical" peaked at the 2nd spot on the Latin charts. They also received a Billboard Latin Music Award. In 2002, they released "Alas al Mundo," which received a top six placement on the Latin charts. After years of touring and composing songs, the rerecorded "Cómo Te Voy a Olvidar" in 2013. This album would revive their glory days. This album was followed by "Viernes Cultural," which broadened their reach to Cuba and Caribbean countries.
In 2014, the group came out with a clever surprise as they made another cumbia subgenre, which they named cumbia sinfónica during a performance with Mexico City Symphony Orchestra. The resulting album, "Cómo Te Voy a Olvidar Edición de Súper Lujo," topped the charts.
As part of their yearly tour, Los Angeles Azules will perform at the Arizona Financial Theatre on Sunday, September 10. To see them live, get tickets now!