Arizona Financial Theatre | Phoenix, Arizona
The art-pop phenomenon is in her Renaissance era, with popping new music! Melanie Martinez emerges from the grave to give you a taste of avant-garde aesthetics and dark-pop tunes, more twisted than before. "Portals," unlike her past albums, does not sugarcoat and does not mince words. Don't be fooled by the eye candy because this one is as bold and biting as ever! In this album, Crybaby is dead, and Melanie introduces her new character: an alien-like pink creature stuck in limbo and whom she describes as "emerging from a prone human form." The whimsical nature of her past albums has evolved into something more ethereal and out of this world, perfect for her central theme of death, the afterlife, and regressions. The album release (and a possible film companion like "K-12") is a treat in itself. However, this year will only be perfect with a Melanie Martinez tour! Catch Melanie as she brings a light aura and relatable-ness on her "Portals" tour, which will stop at the Arizona Financial Theatre. This June 12, Arizona will experience her songs "Death," "Void," "Tunnel Vision," and "Womb" live. You don't want to miss this! Buy your tickets now!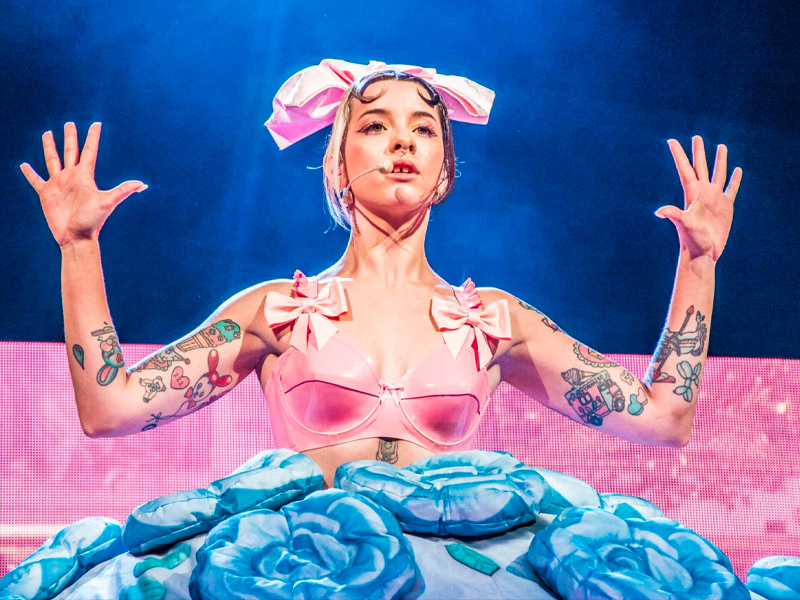 Among all pop sensations of today, Melanie Martinez pops out with her avant-garde aesthetic and dark-themed tunes. Exploring pop subgenres like alternative pop, art pop, electropop, emo pop, and dark pop, her music usually bites, are crafty, and is beautifully eccentric. As Rolling Stone comments, her songs are "twisted lullabies about love, danger, and madness," and people sure can't get enough of her.
The world first heard of Melanie's musical prowess as she competed on the third season of The Voice in 2012. She reached the Top 6 and was eliminated by fan votes. In 2013, she spent the year writing songs, and released her debut single "Dollhouse." From the get-go, her odd style began coming out of the chrysalis, with the song inspired by the dark fantasy movie Edward Scissorhands. The next year, her EP was named similarly to the single that followed. At the same time, Atlantic Records signed her. One song that brought her huge success from this EP, is "Carousel." The song was featured in American Horror Story: Freak Show and reached the ninth spot in the Alternative Digital Songs chart
2015 was the beginning of her first era of conceptual albums, debuting with the album "Cry Baby." This album follows the storyline of a character named Crybaby a direct inspiration for Melanie's childhood self. The highlight of this album is the songs "Pity Party," "Soap," and "Sippy Cup." The songs from this album might appear sugarcoated and childish, but they contain serious themes such as alcoholism and violence. The turning point of her career came with her second album, "K-12," which she paired with a musical film. This album continues the story of Crybaby as she navigates the critical period of school age. The film went viral on Youtube, praised for its Tim Burton and Wes Anderson-inspired style. Meanwhile, the album peaked at the third spot on Billboard 200.
During the pandemic, Tiktok became popular. Some of her songs had their resurgence, most especially "Playdate." This year, she released the third installment to her albums entitled "Portals." This time, the central theme is death. It debuted in the second spot on Billboard 200.
At the Arizona Financial Theatre, people will experience whimsical music on Monday, June 12. See her at this concert from her Portals tour. Tickets are now available! Get yours by hitting the "Get Tickets" link.