Arizona Financial Theatre | Phoenix, Arizona
Folk-driven pop singer Noah Kahan just announced the "Stick Season Tour" taking place this summer 2023, in support of his newest album. His new record features his new singles "Stick Season" and "Northern Attitude". The tour will take a stop at Arizona Financial Theatre on Tuesday, 8th of August 2023. Kahan will be taking his biggest hits, fan favorites, and emotional new anthems to the live stage in celebration of his new album inspired by a New England season that people resent, with songs that people will definitely love. As an artist of authenticity and reliability, Noah Kahan hopes his music continues to inspire and create emotional connections among listeners. Don't miss out on the Stick Season Tour by booking your tickets now!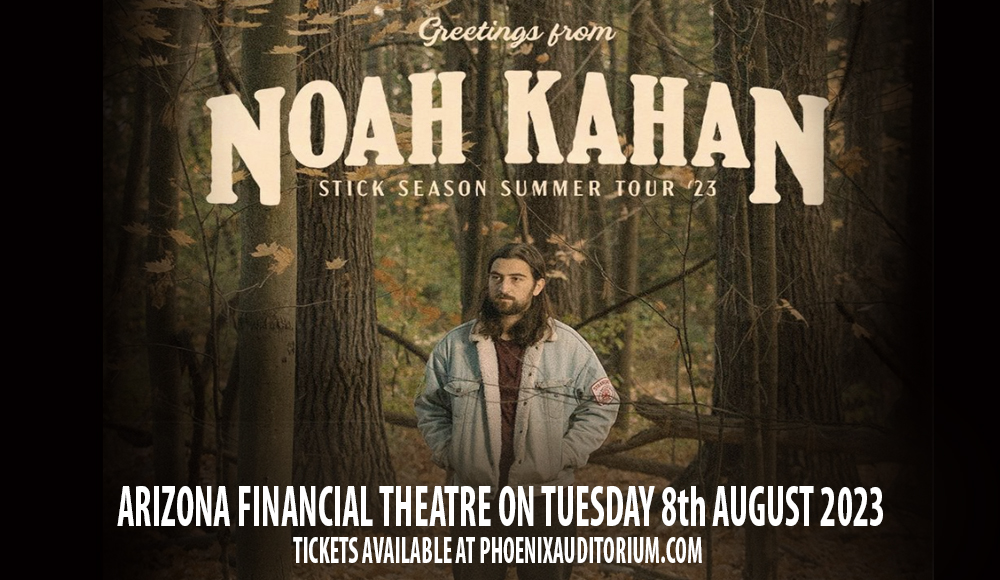 Folk-infused pop singer-songwriter Noah Kahan just recently released his third studio album "Stick Season" last October 2022. The new record explores themes of nostalgia and emotional phases in life, as he pays homage to his folk inspirations that he listened to growing up. In celebration of his new album, the man just plotted a series of shows on his Stick Season Tour happening this summer of 2023.
The new album debuted at #14 on the Billboard 200, and #4 on the Top Alternatives Albums Chart. The album features his new singles "Stick Season" and "Northern Attitude". The former track recently became a viral hit on TikTok.
Kahan rose to the scene in 2017 when his lead single "Hurt Somebody" was later re-recorded with Grammy-nominated artist Julia Michaels. The songs became certified-Gold by the RIAA, bagging a 4x Platinum award from the ARIA. From then on, Noah Kahan became a well-known artist for his folk-infused pop lyrical masterpieces that people highly relate to.
"I wanted to write songs about the feeling of being left behind," he shared in an interview with Insider. "I've always felt an intense nostalgia for that time, like there's been something missing from my life. I didn't go to college and have those four years and my childhood ended in Vermont,"
"Stick Seasons" takes inspiration from a time of the year in New England to which he sahrs is a "time of transition" between two seasons, explaining that it is a depressing time for a lot of people. The album explores themes of nostalgia and phases in life.
The album is also largely co-produced by Kahan himself. He shares: "I had such a vision for it, such a specific story I wanted to tell, that when I got in the studio I found myself not being able to just let the process pass me by at all,"
The album is largely influenced by his folk roots, with every track leaning more into folk rather than his pop side compared to his previous releases. With stories of falling in love, inviting new people into his life, being alone, and so forth, Stick Seasons is an album that hopes to sit down and relate with people. It's about having human connections with listeners through the power of music and lyrics that exude humanity.
As Noah Kahan gears up to bring his new record to the live stage, make sure to save your spot on the Stick Seasons Tour by booking your tickets now!