Arizona Financial Theatre | Phoenix, Arizona
This fall season, you have the opportunity to bring your kids to a perfect family bonding experience! The world's most lovable pig, Peppa Pig, is going live and hitting the road again on a new and exciting adventure! The immersive musical adaptation of the hit children's program Peppa Pig will hit the stage this fall with a new storyline and an entirely never-before-seen production! In this new story, Peppa, her brother George, Mummy Pig, and Daddy Pig are throwing a grand Sing-Along Party, and everyone is invited! Peppa Pig Live will go on a whopping 50-date trek across North America, including a coveted stop in Pheonix, Arizona! On Sunday, 22nd October 2023, you and your kids can look forward to seeing all your favorite Peppa Pig characters, and the show is guaranteed to get you singing and dancing along to its 60-minute spectacle! So hurry and score tickets now to Peppa Pig Live at the Arizona Financial Theatre!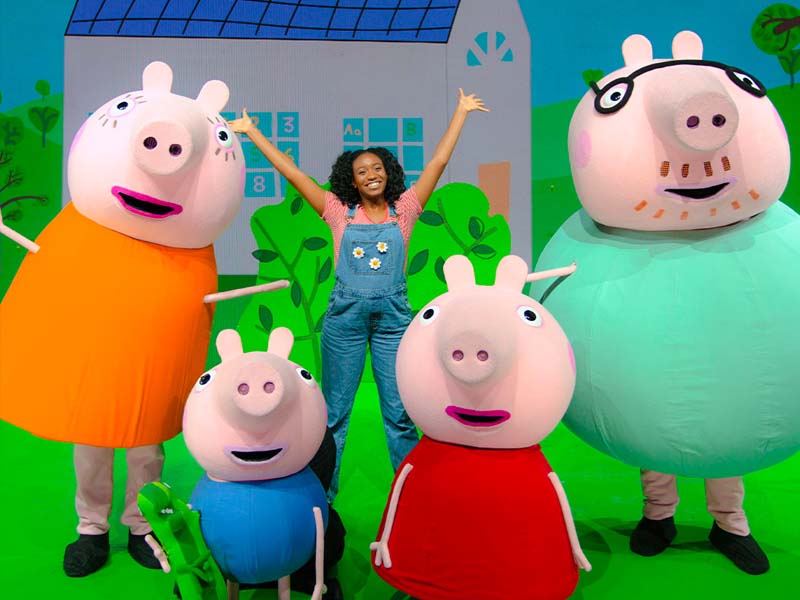 On this new adventure with Peppa Pig and her family, fans can look forward to a plethora of Peppa Pig hits! The Sing Along Party will highlight all your favorite songs. But this musical is not just a show by the performers. The highly-awaited event will also need participation from the audience! Peppa and her family, along with her friends, Suzy Sheep, Pedro Pony, Emily Elephant, and more, teach the audience to dance, clap, and sing along to the music. The audience is guaranteed to experience a non-stop 60-minute interactive adventure.
The popular British animated series Peppa Pig has been a favorite among young and old viewers since 2004. The show, created by Mark Baker and Nevill Astley, has aired a total of seven seasons and over 300 episodes. The show is now broadcasted in over 180 countries and is available in 25 languages. The show is so popular that children who had been watching the episodes started to acquire some Anglo-English accent. Many called this the "Peppa Pig effect."
The show's premise revolves around a little pig called Peppa. She's a cheeky little girl who loves playing with her brother George and friends. She often attends playgroup and goes on fun activities like biking, swimming, and playing at the playground. The characters comprised Peppa Pig, George Pig, and her parents, Daddy Pig and Mummy Pig. The grandparents, Grandpa Pig and Grandma Pig, often make appearances. Meanwhile, Peppa often plays with her best friend, Suzy Sheep, as well as her other peers, Emily Elephant, Candy Cat, Rebecca Rabbit, Danny Dog, and Pedro Pony. Over the years, the show has introduced new characters like Mandy Mouse, Molly Mole, Gerald the Giraffe, and the most recent, Penny Polar Bear.
The animated series' popularity has turned the Peppa Pig brand into a giant franchise. The show has expanded to publishing books, feature films, theme parks, immersive exhibits, resorts, video games, and merchandise. In fact, it has been reported that the Peppa Pig brand is worth over £200 million. Let's not forget that Peppa Pig has also expanded into musicals and stage plays.
Over the years, Peppa Pig Live has showcased new stories and traveled across the world. This fall, the musical will deliver a whole new production designed for the entire family to enjoy. Experience the exciting world of Peppa Pig this fall by scoring tickets for you and your kids!