Arizona Financial Theatre | Phoenix, Arizona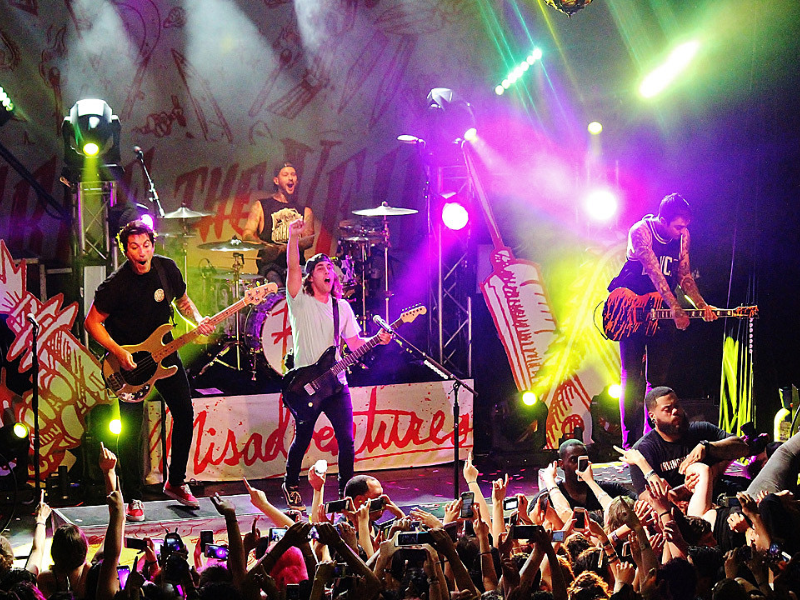 Die-hard metalheads, heed the call! Mosh and headbangs will fill the room as Pierce The Veil is set to tear the roof off of the Arizona Financial Theatre on Tuesday, 7th November 2023! This concert event is part of their "The Jaws of Life" tour, which kicks off late this fall and will run for five weeks throughout November. Supporting them across the country in this 20-date tour are Supergroup L.S. Dunes, post-hardcore Dayseeker, and punk rocks Destroy Boys! Vic Fuentes and his crew will unleash a barrage of adrenaline-pumping anthems that'll reverberate through your very core, featuring new songs from their latest album along with classics like "Hell Above," "King for a Day," and "Caraphernelia"! The countdown has begun, and tickets are disappearing faster than a double bass pedal at a drum solo! Secure your spot in this metal frenzy and reserve your slots now!
Emo metal-core band Pierce The Veil is set to perform at the Arizona Financial Theatre on Tuesday, November 7, 2023!
After a seven-year break, the band recently released their fifth studio album in conjunction with the announcement of the same-titled tour "The Jaws of Life." This latest album "sprawls out in a space between teenage music and teenage emotion," the Rolling Stones shares.
Platinum-selling powerhouse Pierce The Veil consists of Vic Fuentes on guitar and vocals, Tony Perry also on guitar, and bassist Jaime Preciado. This fall, the rock group is heading out to promote their record across multiple cities across America. Kicking off on November 4 in Sacramento, California, the tour will stop at Houston, Boston, Chicago, Las Vegas, and many more before concluding on December 8 in San Diego.
Fuentes explains that this record has truly brought all members closer than they have ever been after being off the road and apart for a long time. The lead vocalist continues to emphasize that the band has never missed anything more than being in the same room and playing music together.
For the length of their tour, metal bands L.S. Dunes, Dayseeker, and Destroy Boys will be featured as their accompanying acts. Originally formed in 2015, Destroy Boys are redefining Left Coast punk as they carry on the riot girl legacy with their smashing hits, "Drink," and "Muzzle." Equal parts hardcore and fun, Dayseeker is another American post-hardcore band signed under Spinefarm Records known for their single "Sleeptalk."
L.S. Dunes is their ultimate guest! This American supergroup is fronted by The Sound of Animals Fighting vocalist Anthony Green, along with My Chemical Romance guitarist Frank Iero, Coheed and Cambria guitarist Travis Stever, bassist Tim Payne, and drummer Tucker Rule from the band Thursday.
Embrace the chaos; embrace the metal. Join us and let Pierce The Veil rock the crowd at the Arizona Financial Theatre - a popular spot for entertainment shows in downtown Phoenix! Audiences can ensure a visceral experience as the venue holds a 5,000 seating capacity while boasting cutting-edge sounds and lights. Get your tickets now, and get ready to be part of a metal mayhem!