Arizona Financial Theatre | Phoenix, Arizona
With a big new album up his sleeve, the acclaimed DJ, record producer, and remixer, Seven Lions, just announced a massive 2023 headlining "Beyond the Veil – The Journey III Tour". Kicking off this April and continuing throughout the year with a stop at Arizona Financial Theatre on Wednesday, 14th of June 2023, Seven Lions is looking forward to throwing an electrifying set at every venue. Produced by Live Nation, the tour promises his signature melodic bass and dubstep masterpieces matched with electrifying visuals and energy live on stage. Book your tickets now!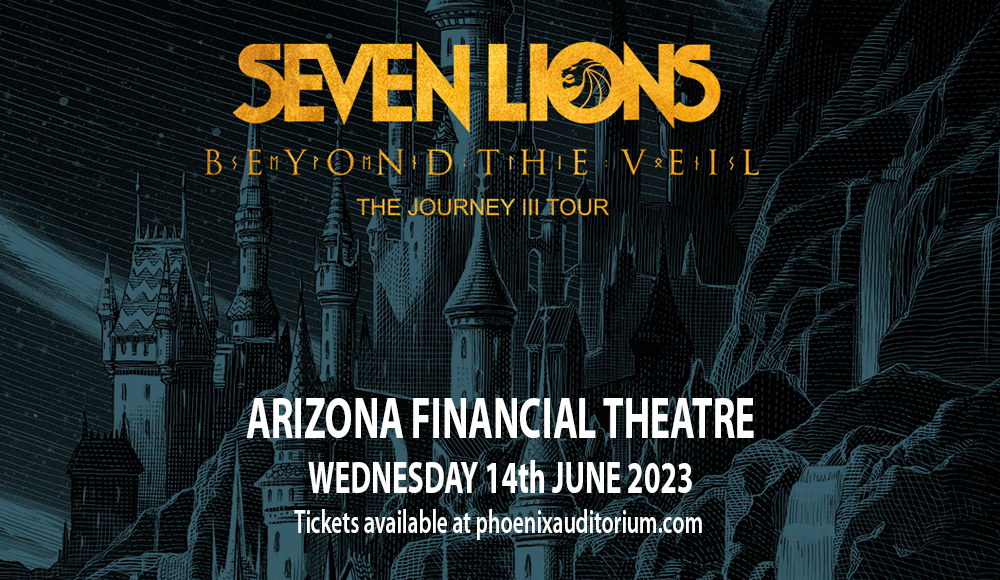 Teasing his new album over the past year in festival features, Beyond the Veil is finally out in its entirety for EDM fans to jam and party to. The album features his melodic dubstep masterpieces "Every Time" featuring So Below, "Call On Me" featuring Vancouver Sleep Clinic, and "Stop Thinking" featuring Lights. Released last October 2022, the 12-track record features multiple collaborators including Mija, Magree, GG, So Below, and many more.
Having toured around the world and performed at the biggest EDM festivals across different countries, Seven Lions continues to impress and shake the industry with his unique and energizing blend of the genre. As he embarks on Beyond the Veil – The Journey III Tour, you can expect him to perform his new tracks and fan favorites on the big stage.
Rooted in Santa Barbara, California, Seven Lions, or Jeff Montalvo, found an interest in music production at the age of 7. His dad came home with a Mac and a keyboard, and from then on began his fascination with production. He also played the bass and guitar growing up. From becoming a drummer for metal and punk-oriented bands, he then found himself transitioning to focus on electronic music "because I got tired of waiting for my band all the time – I wanted to just start making music so I started composing electronic music by myself."
In 2010, he started releasing remixes, one of which was an unofficial mix of "Cosmic Love" by Florence and the Machine, which gained attention and eventually made it to the official single package of the song by Moshi Moshi Records. From then on, he released more remixes and gained a following for his euphoric and signature melodic beats driven by dubstep elements.
As he celebrates 10 years of making music, Seven Lions dropped his biggest milestone to date – his first full-length studio album. With new music and a big tour up his sleeve, Seven Lions is ready to take his artistry to the next level.
Known for his melodic dubstep, electro house, and trance sound, his notable releases include "Strangers" with Myon and Shane feat. Tove Lo, "Falling Away" with Lights, "First Time" with Slander and Dabin featuring Dylan Matthew, "Only Now" feat. Tyoer Graves, and "Call On Me" featuring Vancouver Sleep Clinic.
Known for his explosive collaborations with other artists and DJs, fellow DJ Subtronics took the first day of his ANTIFRACTAL Tour to debut an unreleased collaboration with Seven Lions. Though given the new song's live debut, no word has been heard about an official release date for the new track.
His first full-length album, a massive headlining tour, and big surprises out and about, you definitely can't miss out on this chance to catch the one and only Seven Lions live on stage at Beyond the Veil – The Journey III Tour. Book your tickets now!