Arizona Financial Theatre | Phoenix, Arizona
REMINDER: ALL PATRONS MUST BE AT LEAST 18 YEARS OLD TO ATTEND.
Yes, girl, that's right! Drag is back as Murray and Peter present "A DRAG QUEEN CHRISTMAS." They are coming live at the Arizona Financial Theatre on the 7th of December, 2023. This highly acclaimed drag show is on its 9th consecutive year of touring and is regarded as the longest-running drag tour in America.
Your FAVORITE drag queens are performing live on stage to give you the night of your lives! We've got Winners, Fan Favorites, OGs, Miss Congeniality, plus queens from Season 15 and All Stars 8 are the queens you are definitely going to see. Stay tuned for surprises!
Tickets start at $75, and there are other VIP packages that include meet and greets plus special perks, fan photos, and autographs.
This show is for all you queens, so grab your tickets now and save a seat before they sell out!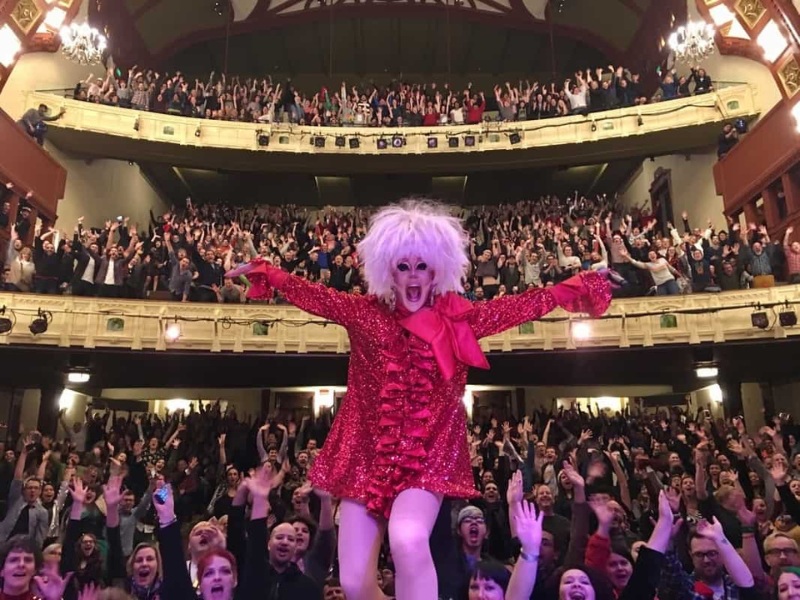 Ever since the Emmy-award-winning reality TV competition "RuPaul's Drag Race" broke into the mainstream media, it has been one of the most influential shows in many households all over the world. Their new seasons are highly anticipated, consistently producing rockstar drag queens.
Just in time for the holiday season, drag is back with "A DRAG QUEEN CHRISTMAS." This all-star drag tour is one of the most highly awaited annual events of fans. So buckle up and get ready because our queens will be serving you their classic looks and hilarious banter!
Murray & Peter, unlike our beloved drag queens, often keep themselves away from the spotlight. However, their general success and excellent productions speak for themselves. The Detroit-based entertainment booking duo has a history of successfully presenting shows featuring top-notch marquee talent, including Belinda Carlisle, Margaret Cho, the Naked Magicians, and even the late Joan Rivers.
Catch this fantastic show that will have your stomach aching from all the laughs and giggling all the way home! A DRAG QUEEN CHRISTMAS is live at the Arizona Financial Theatre on the 7th of December, 2023. We're certain all the fans have been waiting for this! The theatre is located in Downtown Phoenix and has a seating capacity of 5,000 people. Spots are very limited so be sure to score tickets early.
Get ready for the show's hilarious host, Miz Cracker, alongside your favorite drag queens from RuPauls' season 15 and All Stars 8! We've got Winners, Fan Favorites, OGs, and Miss Congeniality will for sure be there to give you the night of your lives. Drag lovers, this is your chance to see them, maybe even meet them, live! Don't miss out on this crazy night.
ADVISORY: The show may contain adult language, sexual content, and naughty comedy. It is recommended that viewers be 18 years old or above.
Score your tickets now and get the chance to meet our naughty drag queens! Seats are very limited, so click "GET TICKETS" to make sure you secure your spot.