Arizona Financial Theatre | Phoenix, Arizona
Fans of Bluey will be thrilled to learn that the Heeler family will appear in a two-night, back-to-back event at the Arizona Federal Theatre. On January 14 and 15, you and your kids will witness Bluey's Big Play, a stage production based on the popular Australian animated series, brought to life. Bluey's Big Play Tour will stop at the famous Arizona venue, so you can bet that the venue will be swarming with happy kids who can't get enough of Bluey, Bingo, Bandit, Chilli, and Muffid. Bluey's Big Play is the place to be if you want your children's first event in 2023 to be one they'll never forget. Get your tickets for the premiere show on January 14 by clicking the "Get Tickets" link on this site. Reserve your tickets as early as today to get the best seats in the venue.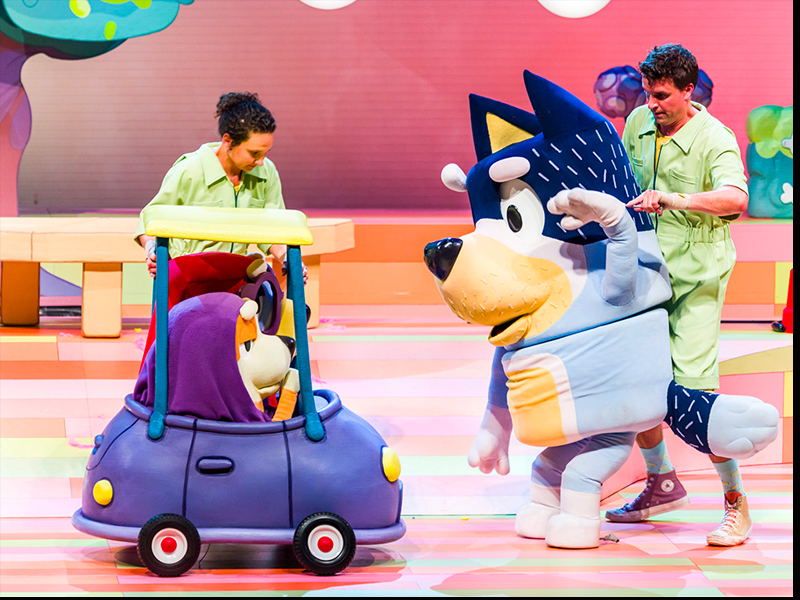 Millions of kids worldwide love Bluey, an Emmy award-winning animated cartoon that has stood out among the sea of kid's shows because of its sheer adorableness. The Disney Channel, Disney Junior, and DisneyPlus have all begun airing the cartoon series, which had its initial broadcast in Australia. Bluey, a Blue Heeler puppy, and her family—father Bandit, mother Chilli, and younger sister Bingo—engage in exciting and creative play throughout the episodes. With the help of her many companions, Bluey goes on exciting adventures that feature well-executed episodes full of valuable teachings that viewers of all ages may enjoy and benefit from.
A stage production of the musical debuted last year in Australia, and audiences went wild for it. The puppetry was praised in several reviews, and the show's bright, colorful backgrounds remained faithful to the original TV series. The play has been so successful that a live theatre production is coming to the United States this year.
Rosemary Myers, director of Windmill Theatre Co., said the company is delighted to present the remarkable live theatre play to US audiences after experiencing the show's "amazing reaction" in Australia. She expressed their company's excitement to bring the wonderful characters to life in 3D and celebrate this momentous occasion with fans across the United States.
The acclaimed production will launch its United States tour this November and run through June 2023. The highly-anticipated series of shows will stop at the Arizona Federal Theatre on Saturday, January 14, 2023. Don't miss the opportunity to witness it in person and see your kids' faces bright up in happiness as they finally see Bluey in person. If you haven't purchased tickets yet, click the "Get Tickets" button to reserve the best seats in the venue. Purchase your tickets here for a hassle-free and quick transaction.