Arizona Financial Theatre | Phoenix, Arizona
The Arizona Federal Theatre presents something exciting for the whole family this January! On Sunday, 15th January 2023, Arizona Federal will host the much-anticipated musical for kids, Bluey's Big Play! This stage adaptation of the Emmy Award-winning popular TV series Bluey goes on tour this 2022 to 2023 with over 70 stops in North America! This is your kids' opportunity to meet the beloved canine siblings Bluey and Bingo and their parents, Bandit and Chili! See the popular show come to life on stage at Arizona Federal Theatre with an all-new storyline and brand-spankin' new music! Hurry and get your tickets now!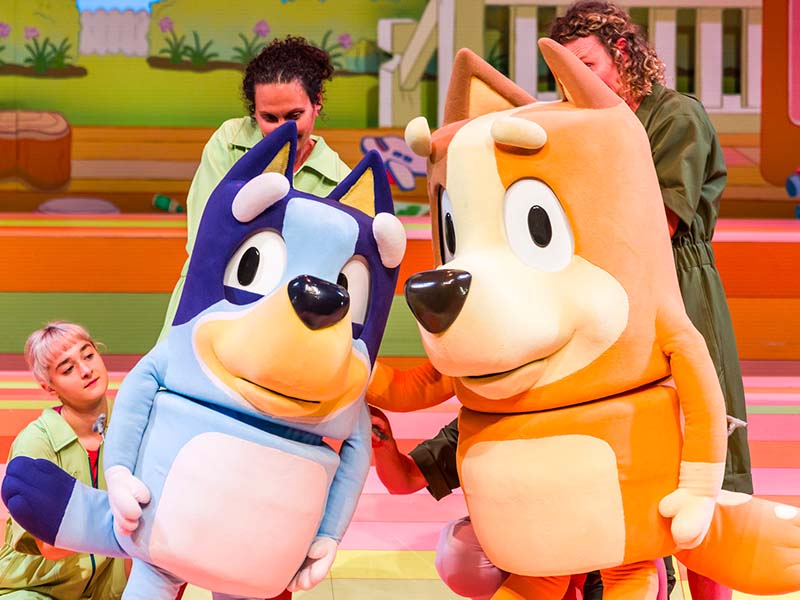 Bluey's Big Play introduces a never before seen charming story that will make the whole family laugh and sing along to fantastic new tunes! Bluey's dad, Bandit, is relaxing on a lazy Sunday afternoon. However, his kids Bluey and Bingo have other plans! Not wanting to let dad just doze the whole day away, the two pups find tricky ways to get dad off the bean bag! Bluey's Big Play features an all-new story written by Bluey creator Joe Brumm and exciting new music by composer Joff Bush. If your kids have been watching Bluey on TV, Bluey's Big Play is guaranteed to entertain the little ones with its signature imaginative play concept.
Since 2018, Bluey has entertained children of all ages with its charming plots and energetic music. The show is designed to encourage kids to explore and learn and guide them with the world's ways. The series features a Blue Heeler Puppy by the name of Bluey. With his sister, Bingo, Bluey explores his immediate surroundings and learns to become independent. But there is no reason to worry, because his dad, Bandit, and mom, Chili, are there to help him through challenging tasks.
Bluey resonated well with young viewers. Since its premiere on ABC Kids in 2018, the show has won numerous awards, including Best Children's Program at the Australian Academy of Cinema and Television Art Awards three years in a row and Best Soundtrack Album and Best Music for Children's Programming at the APRA Screen Music Awards. Meanwhile, Bluey won the Kids: Preschool Category award at the International Emmy Kids Awards in 2019. In 2020, Bluey's book adaptation 'The Penguin' won Book of the Year at the Australian Book Industry Awards.
Indeed, Bluey's Big Play is a must-see music spectacle designed to build memories for you and your family. Tickets are now available, so you should secure your passes now before it's too late!