Arizona Financial Theatre | Phoenix, Arizona
With rock music that seeks to uplift, hard rockers Skillet and Theory of a Deadman just announced an extensive co-headlining 'Rock Resurrection Tour' for 2023. As it's been years since their last tour together, the two bands are joining forces to resurrect rock music that uplifts to the live stage. The tour makes a stop at Arizona Financial Theatre on Wednesday, 22nd of March 2023, set to light every heart on fire as they resurrect every spirit through the power of electrifying rock music. Book your tickets now!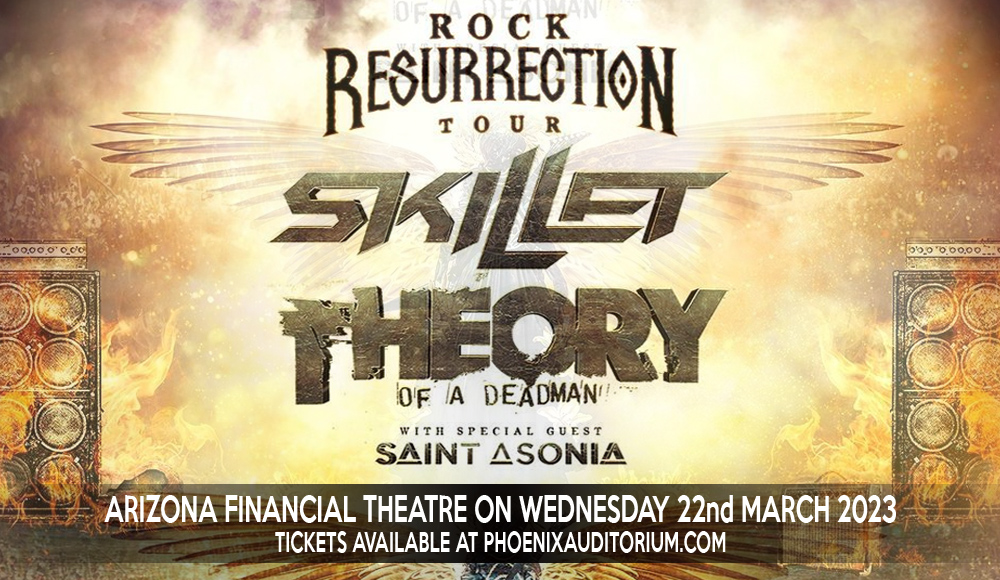 The Canadian rock band, Theory of a Deadman, and American Christian rockers Skillet are joining forces for a co-headlining tour, supported by Saint Asonia. With music that uplifts and sets hearts on fire, the Rock Resurrection Tour will definitely bring the spirit of rock alive and kicking on the live stage.
"We're super stoked to be touring with our good friends in Skillet and Saint Asonia this winter," shares Theory of a Deadman lead vocalist Tyler Conolly. "We're also really looking forward to playing new material for our fans!"
The band recently shared a new song "Dinosaur", marking their return to their striking flavor of rock swag. The up-tempo track shares the band's return to their familiar flavor of upbeat rock anthems and hints at a new sonic direction for the band's next record.
"'Dinosaur' takes us back to our roots with this riff-driven rocker," shared Conolly. "To me, it feels like it could fit on any of our albums, but I will say if you like the old Theory of a Deadman, you'll love the new Theory of a Deadman."
"We are so excited to be touring with our friends from Theory again!" John Cooper, vocalist of Skillet, shares. "It's been several years since our last tour together, and this time we are also joined by our friends in Saint Asonia. We are looking forward to kicking off 2023 the right way by joining forces for a super-charged rock show! Panheads get ready!"
Defying rock themes of rebellion and darkness through hard-hitting uplifting rock anthems, American Christian rockers Skillet defied mainstream Christian airwaves, introducing a hard-core flavor of music that serves the same mission of strengthening the faith. The Grammy-nominated and multi-platinum selling rock band has dominated the airwaves for their hit rock singles such as "Hero", "Whispers in the Dark", "Comatose", "Monster", "Feel Invincible", "Legendary", and so on.
As the two legends join forces for the Rock Ressurection Tour, Theory of a Deadman and Skillet are gearing up to electrify the stage and set fire to every spirit that comes forth, all in the power of rock. Don't miss out by booking your tickets now!