Arizona Financial Theatre | Phoenix, Arizona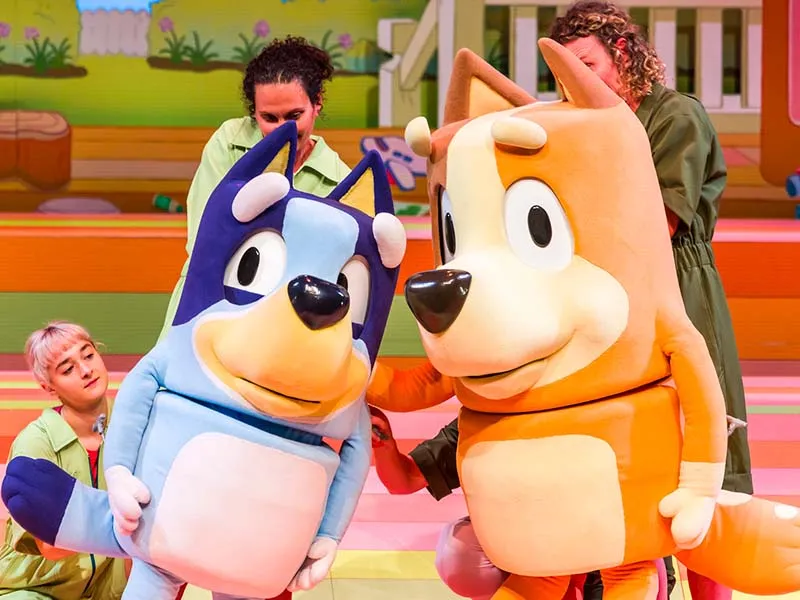 Bluey is coming! and it's the most exciting spectacle for the whole family, and it's making its way to you! Are you ready?! You better be! If you want to bring your children to a wonderful adventure filled with imaginative play, stimulating visuals, and a heartwarming story, you should quickly secure access to the season's most exciting children's musical! Bluey's Big Play is a brand new stage adaption of the popular children's series Bluey! What you can expect is a whimsical world where adorable puppies Bluey and his sister Bingo go on exciting, imaginative adventures with their dad, Bandit Heeler, and Chili Heeler! Sounds amazing? You, too, can join this exhilarating trip because Bluey's Big Play is coming to Phoenix, Arizona! On Sunday, 18th February 2024, this critically acclaimed musical is set to conquer the Arizona Financial Theatre! The musical has been praised by viewers for its top-notch puppetry, breathtaking scenic design, and energetic performance! Give your family a treat this season by securing tickets to see Bluey's Big Play at the Arizona Financial Theatre!
Bluey is an award-winning series about a six-year-old heeler puppy named Bluey. He lives in Queensland with his sister Bingo and his parents Chilli and Bandit. The program premiered in 2018 in Australia and has aired a total of three seasons (151 episodes). Due to the show's popularity, it is now broadcast to several other countries, including the U.S., Asia, the United Kingdom, Canada, and Ireland. In 2019, the series won the International Emmy Kids Award, as well as two Logie Awards for Most Outstanding Children's Program.
Dad won't put his phone down! So, Bluey and his sister Bingo come up with a mischievous plan to force their father to play with them. They steal his phone! Bluey's Big Play provides audiences with a heartwarming and relatable story. With parents in the real world glued to their phones due to work and entertainment, kids are finding ways to grab the attention they deserve! This incredible musical brings out all the stops - from trailblazing puppetry to visually impressive scenic design, a brand-new musical score, and plenty of exciting surprises! Seeing the show in person is like diving into the beautiful world of Bluey. It's a version of his home in Queensland, Australia, only it's much more colorful and outstanding!
This project is made possible by Bluey's Creator, Joe Brumm, Ludo Studio, BBC, and Windmill Theatre Co. The musical features a brand new score by original Bluey composer Joff Bush. With the popularity of the TV series, it was only logical to bring it to the big stage! It's a fantastic musical designed to liven up all your five senses and capture the imagination of young children! For the better part of 2023, Bluey's Big Play just entertained thousands of children and families worldwide. This 2024, the musical has been extended due to public demand! So hurry and secure tickets now!
This 2024, you and your family can dive into the fantastic world of Bluey as he and his family share an incredible story designed to warm the hearts and minds of its audiences! Don't miss Bluey's Big Play! Hurry and score your tickets to this fantastic musical now!